Agile, fluid and assertive internal communication
The way we see human relationships has changed with the pandemic. Especially due to the transformation of the corporate dynamics practiced until a recent past. Companies had to quickly adapt themselves so as not to lose or leave gaps in the internal communication – the path to innovation has been fierce and immediate.
Social isolation was the key factor to anticipate what was expected for the coming years: remote work. Most of the companies found themselves in a scenario that forced them to adopt the home office.
At this moment, communication became the best defense and attack against the barriers imposed by the pandemic.
Innovating and reinventing themselves were a proposal for many before the pandemic. Companies and self-employed professionals have had to accelerate the digital transformation processes to continue serving their customers with excellence.
Employees more committed to a new work and communication model.
One of the challenges faced by leaders and managers is to engage employee teams to have a better internal communication. The sudden change and adaptation to a new routine and work environment naturally requires that companies think of new processes, solutions and tools to make a productive, agile and collaborating management, with remote work.
"I'm not kidding myself: WhatsApp will not deliver everything we need. Soon, new solutions will be  indispensable to allow greater control and management". Says Leonardo Valença, CEO and founder of imMail.
Even in the post-covid19 era, or in the New Normal, organisations will need their own virtual environment and collaboration softwares, to supervise and monitor the progress of their work in a 100% remote way.
Several companies have realized the advantages of this work model and see with optimism the opportunities that remote work offers.
This is the case of Facebook, which recently announced the permanent adoption of remote work, even after the flexibilization of social isolation measures. According to Chief Executive Mark Zuckerberg, measures like this should further accelerate the geographic diversity of the technology sector.
These changes do not occur only in the work model of the companies. Tools and systems should also adapt and there is an expectation that new on-line tools move towards alternatives to centralize tasks of physical and remote teams. This is because there is a concern with data security, in addition to the ease and increase in productivity of employees, without the necessity of using several systems to perform work.
Brazilians online and connected. We are already more than 80% of the population!
Studies by TIC (Information and Communication Technology) and IBGE (Brazilian Institute of Geography and Statistics) indicate that the internet has become more accessible to Brazilians. Therefore, it no longer makes sense to limit an employee's work to a physical location. Going to the office is no longer a necessity and has become an alternative to many coworkers.
The employee who used to use public transport – train and two buses to go to work, spending four hours of his day – now is just a few meters away from the office. He can be more productive, delivering more in less time, with more tranquility.
For those who cannot or do not want to work from home, the coworking spaces appear as an option for offering planned environments to facilitate the job. Convenience and  quality of life at work will be a prominent element and a good internal communication can facilitate it.
This movement also stimulates the culture known in the United States as BYOD – "Bring Your Own Device". Employees will use their own devices to connect to company's information, such as internal networks, systems, databases.
As already said, geographic barriers will be overcome, for instance in the hiring process that will be reformulated during the innovation. If companies were previously limited only to people in the same city or state, this will be expanded nationally or even globally. These changes will result in increased competitiveness for job vacancies, reducing the costs of the hiring process and creating opportunities for professionals from other locations.
Legacies of the pandemic.
If on one hand the pandemic has imposed on us abrupt and severe adaptations, on the other hand, it will let us witness a number of companies leaving behind their old work model in physical offices and becoming 100% (or almost) digital.
The remote work culture is here to stay, and according to the FGV (Getulio Vargas Foundation), this movement will increase more than 30% once the spread of the COVID-19 stabilizes.
Even if people are no longer working in the same physical location, the internal business communication will become faster and more fluid than anyone has ever seen, with the office just a click away from each employee.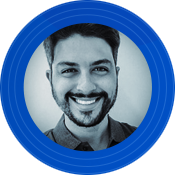 Leonardo Valença, founder and CEO of the corporate communication and collaboration startup imMail, was vice-president of the Association of Startups and Digital Entrepreneurs. He is an Information Technology expert graduated from the University of Brasilia.
This article was based on the article published on July 1st, 2020 on Estadão portal. Click here to check the story.
imMail is a solution that unifies the power and speed of instant messages with several other common features from the largest communication and collaboration tools available on the market.
With imMail, your entire work team and customers  can communicate through group chats, video conferences, and manage files and tasks in one single online environment and app.
Improve your corporate communication right now! Click here and sign up!