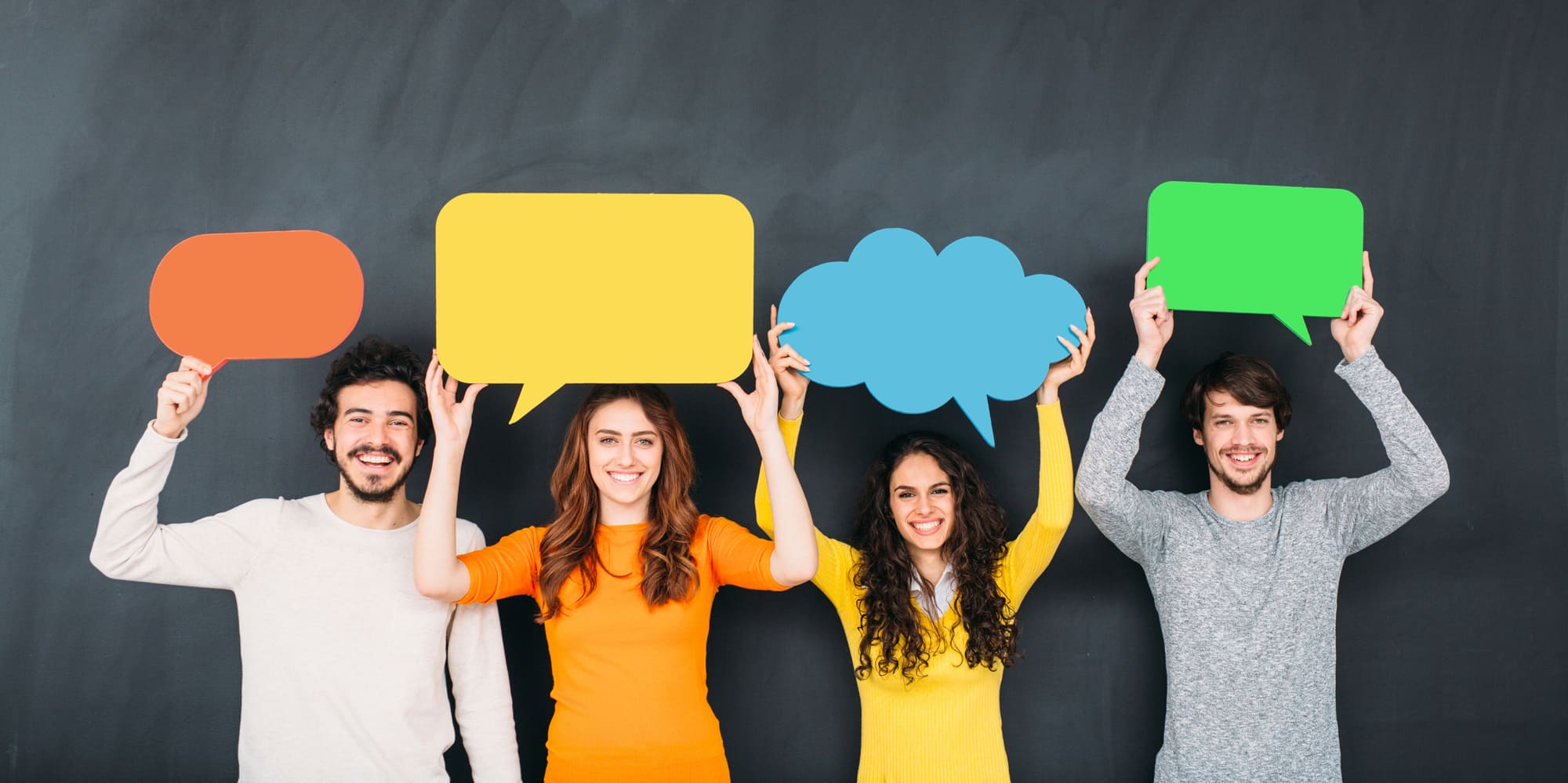 What‌ ‌are‌ ‌the‌ ‌challenges‌ ‌to‌ ‌implement‌ ‌a‌ ‌creative‌ ‌internal‌ ‌communication?
Creative internal communication plays an important role in the race for success of an enterprise. It directly affects the employees' engagement with the organisation's objectives, reflecting on customers' satisfaction and the brand perception by external public.
Arousing the interest of your professionals might be challenging. Therefore, investing in strategies for an efficient internal communication depends on breaking some barriers. In this post, we will show you what are these barriers and valuable tips to overcome them and achieve better corporate results through dialogue. Check it out!
The benefits of creative internal communication.
Achieving an efficient organizational communication has always been a challenge for corporations. Although methods for instant messaging have developed over the years, some challenges remain.
Whether due to email overload, lack of feedback or disorganization of teams, the inefficiency of message exchange can be more harmful than the lack of dialogue itself.
When companies invest in creative and transparent corporate communication, the tendency is for employees to be more interested in the messages that are transmitted. Thus, reducing the noise and eliminating problems caused by information heard through the grapevine. Improving organizational climate and facilitating the work and interaction between sales teams and other departments.
Investing in innovative channels and in experience might be more important than the content itself. Understanding the importance of creativity in communication processes brings benefits to everyone in the organization, as it leads to positive results in general.
It is also important to highlight the talent and customer retention. In both cases, transparency promotes trust, and consequently the feeling of safety and well-being in the workplace and between business-client relationships. When internal and external customers realize that there is no mismatch of information, they feel comfortable building bonds with the company.
Challenges of implementing creativity in communication.
Know more about the main issues faced during the implementation of creative internal communication.
Lack of engagement by employees
Technology has been bringing important advancements into the corporate environment, however, human resources are still the most valuable assets of a company. Without employees' engagement and support, the implementation of new processes is unlikely to succeed.
Even though creativity can be engaging, it is necessary that coworkers have the minimum interest in listening to what the organization and leaders have to say.
Disconnection of internal communication with company's strategy
Many companies still see corporate communication as a tactical strategy of information transmission, forgetting that it is an essential resource to achieve corporate objectives.
As a result, they do not invest in appropriate communication plans and strategies that represent the culture of the company and that are accessible to all the coworkers. Therefore, even though the communication channels and strategies may be creative, they will be ineffective if distant from the company's and employees' characteristics.
Use of inefficient communication platforms
Many organisations still use the traditional notice board – placed in the kitchen, above the employees' time clock – as the main communication channel with employees. When the topic is very important or can cause large impact, meetings are scheduled, which are often long, tiring and not very attractive.
The lack of creative internal communication methods do not attract employees' attention, consequently, they do not pay full attention to the message being delivered and the dialogue becomes inefficient.
Lack of management and leaders support for the creative strategies
One of the biggest challenges for creative corporate communication is to set up an authentic exchange of information, without seeming to be mechanical or rehearsed.
It is not only about passing on the information and numbers. It is necessary to connect this data and arouse the interest of everyone, telling stories that keep employees interested in what the organisation has to say.
Those who have communication as part of their job roles and responsibilities must use a less formal communication method to talk to their teams, in a way that every single word and detail seems to be planned carefully. After all, there is nothing more frustrating than receiving messages that are difficult to understand or which there is no identification with.
Tips to break down these communication barriers
Are the problems mentioned above familiar to you and your company? Do you want to overcome these barriers and invest in a creative internal communication? See the suggestions we gathered!
Invest in technology
Investing in innovation and adopting exclusive platforms for internal communication helps to centralize information and make dialogues more flexible, allowing the company to be creative when issuing communication and news.
This attitude contributes to overcome the challenges of lack of engagement by employees. Slowly, coworkers realize that they are really aware of the company's news and decisions and become more receptive.
Listen to your coworkers
Find ways to listen to your employees, either through engagement surveys, feedback policies or by consulting employees on how they want to be treated.
The employee's voice is fundamental to adopt new internal communication initiatives and to plan a more efficient workplace, by using creative ideas and solutions.
In addition, when you treat your teams in the same way as the interactions between leaders and team members, branches and clients, you create a cycle that drives engagement, better performance and best results for the business.
Focus on experience
Change the focus of content creation to facilitate experiences. The goal of corporate communication is to create connections and awaken a sense of community, so it needs to be creative.
The solution is to create content that brings a new experience to collaborators, whether by reading, corporate TV resources or instant messaging applications.
Producing content is important, but focusing on the experience caused by the form of interaction is fundamental. It piques the interest of employees and helps them to assimilate the messages delivered by the company in a more efficient way.
Since corporate communication is the key to company success, achieving creative internal communication is the challenge of the Human Resources personnel. After all, the department is responsible to present solutions that improve People Management processes and propose results improvements through human capital. Think about it!
If you like this content and want to stay up to date with our tips on internal communication and productivity, follow us on Facebook, LinkedIn, YouTube and Instagram!